Arte come mestiere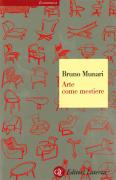 Bruno Munari was among the most inspirational designers of all time, described by Picasso as 'the new Leonardo'. Munari insisted that design be beautiful, functional and accessible, and this enlightening and highly entertaining book sets out his ideas about visual, graphic and industrial design and the role it plays in the objects we use everyday. Lamps, road signs, typography, posters, children's books, advertising, cars and chairs - these are just some of the subjects to which he turns his illuminating gaze.
Munari shared the Bauhaus ideal that art and life should be fused back together. The designer's job was to respond to the needs of the time. Art should not be divorced from the everyday, an ideal world where we go to find beauty; visual quality should be part of everyone's ordinary experience. Only when the objects we use and the places we inhabit have become works of art will life be in balance. Hand in hand with this goes a rejection of the idea of the designer with a personal style, which Munari regarded as a remnant of romanticism and a contradiction in terms.

His activities ran from graphic design to industrial design, by way of children's books, and his observations are similarly elastic — such breadth of thinking is now rare. The book is sprinkled with Munari's sketches of faces, chairs and letterforms, diagrams of his "useless machines" (aerial mobiles), theoretical reconstructions of imaginary objects, designs for lamps, and photos of his experiments with projected imagery. He points out that the ancient Japanese word for art, asobi, also means game, and this was the way he proceeded, as if playing a game, trying things out to see what would happen. Commentators have pointed out the Zen-like nature of his thinking and his passion for Japanese culture lies behind some of his most absorbing writing, including a lovely essay on the simplicity, lightness and adaptability of a traditional Japanese house. He concludes by contrasting this sarcastically with the uncivilised dirty marble of Italian homes.
Translations
With the title:
Umeni jako remeslo