Falcon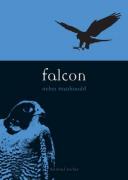 The fastest animal alive, the falcon deserves attention not just for the combination of speed, power, beauty and ferocity that have made it an object of fascination for thousands of years, but for the light it sheds on the cultures through which it has flown. This book, bridging science and cultural history, surveys the practical and symbolic uses of falcons in human culture in new and exciting ways.
Helen Macdonald describes the complete history of the bird, ranging across the globe and over many millennia, as well as incorporating the latest scientific discoveries. There are chapters on falcon natural history; myth and legend; falconry; conservation; falcons in the military, in urban settings and the corporate world. Along the way the reader will discover how falcons were mobilized in secret military projects, their links with espionage, the Third Reich and the space programme, and how they've featured in erotic stories. The book explores their veneration as gods in Ancient Egypt, their role as cultural icons in the Middle East, and their recruitment by the advertising industry to promote all manner of products, from photocopiers to jet planes.
Falcon combines in-depth practical, personal and scientific knowledge of falcons with a strong analytical perspective on the place of these birds in human history. It will be enjoyed by specialists and non-specialists alike: lovers of the countryside, birdwatchers or anyone who has ever wondered why falcons are so compelling.
Editori associati (tassonomia)