A History of Life in 100 Fossils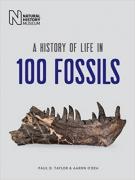 This is the epic story of life on Earth, uniquely retold through some of the most significant fossils ever found. The book travels through 3.5 billion years of Earth's history and across all seven continents, showcasing the unusual and wonderful creatures that have played a pivotal role in our evolutionary past.
Ancient Australian microbes reveal the very first signs of life on Earth, tiny Triassic snails demonstrate the effects of past mass extinctions, and the remains of our own ancestors tell us where we came from. A History of Life in 100 Fossils brings together remarkable fossil discoveries to illustrate how life on Earth evolved.
Palaeontologists Paul D. Taylor and Aaron O'Dea explain the importance of each fossil and tell the engaging stories of the sharp-eyed and sharp-witted people who discovered them. Each fossil is beautifully illustrated with photographs to bring this unique story to life. It is reformatted, resized and revised for autumn 2015.
Author
Paul D. Taylor, Aaron O'Dea
Translations
With the title:
La storia della vita in 100 fossili
Editori associati (tassonomia)