Italiani in Germania tra Ottocento e Novecento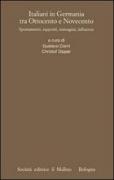 The relations between Italy and Germany were for centuries very strong  culturally, politically and economically, even if sometimes interwoven with moments of crisis and war. The same is true for the relationships between people. The traditional image of Italians going to Germany is associated with the millions of people who went in the richest country beyond the Alps to find work and better living conditions. But the Italian movements to Germany have taken much more complex forms: Italians as tourists, as economic agents, as intellectuals, politicians, as artists and scientists have lived, studied and worked in Germany. The result is a dense network of links, images, even stereotypical, of mutual enrichment. This volume, written by a group of Italian and German scholars, focuses for the first time the extreme complexity and richness of the physical and mental movements of the Italians to Germany in the last two centuries.
Gustavo Corni, professor of contemporary history at the University of Trento, is a specialist in German history of the nineteenth and twentieth centuries. Christof Dipper teaches Modern and Contemporary History at the University of Darmstadt. His research topics cover the history of Germany from the eighteenth century, with particular interest in the comparative analysis of German history with the Italian one.
Author
Gustavo Corni, Christof Dipper
Translations
With the title:
Italiener in Deutschland im 19. und 20. Jahrhundert
Editori associati (tassonomia)