Je suis un monstre qui vous parle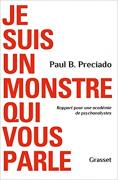 In November 2019, Paul Preciado spoke in front of 3500 psychoanalysts during the international days of the School of the Freudian Cause in Paris. In front of the profession which diagnosed him as "mentally ill" and "gender dysphoric", he relied on Kafka and his Rapport pour une académie, in which a talking monkey discourses in front of an assembly of scientists. Far from any emancipation, Kafka's talking monkey explains that his learning of language was only a passage from one cage to another: from iron bars to human subjectivity.
From his "mutant" cage, it is not for Preciado to talk about the homophobia or transphobia of the founding fathers of psychoanalysis, but to show the latter's complicity with an ideology of sexual difference dating from the colonial era, now rendered obsolete by the means at our disposal to influence our bodies and our way of procreating.
Above all, the philosopher calls for the transformation of psychological and psychoanalytic discourses and practices: in the years to come, we will have to collectively develop an epistemology capable of accounting for the multiplicity of living beings, without reducing the body to its heterosexual reproductive force, and which does not legitimize hetero-patriarchal and colonial violence.
The conference caused an earthquake in the audience and since then psychoanalytic associations have been torn apart. Filmed by smartphones, the speech is posted online and fragments are transcribed, translated and published on the internet without concern for accuracy. In order to broaden the debate, it was important to publish this text in its entirety.
Translations
With the title:
Sono un mostro che vi parla
Editori associati (tassonomia)