La Democrazia. Storia di un'ideologia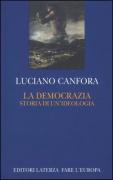 Luciano Canfora reopen the fundamental question of the relationship between freedom and democracy. This book captures the 'disturbing' and 'terrible' aspect of freedom. Giulio Giorello, "Corriere della Sera - Magazine"
Few scholars have, in Italy, the chance to join erudition and verve: Luciano Canfora is one of them, with a controversial vein that makes his writing always tasty and stimulating. With La democrazia we will not be disappointed: the author is at his best. Angelo d'Orsi, "Tuttolibri"
"In the rich world freedom has won. With the terrible consequences that this entails. Democracy is postponed to other times.» The radical Canfora's thesis reinterprets the history of Europe and demolishes a preconception of our political culture.
Translations
With the title:
La Démocratie
Editori associati (tassonomia)