Scienza della cultura e fenomenologia degli stili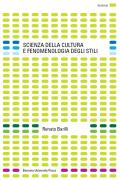 In The Science of Culture and the Phenomenology of Styles, Renato Barilli examines the history of artistic style in relation to scientific discovery. Applying an innovative analysis, he illustrates the subtle, yet intrinsic, connection between paradigm shifts in the sciences and in the arts.
Barilli argues that there are "homologies," or equivalences, between specific discoveries or inventions and revolutionary advances in artistic techniques. He draws upon the pioneering work of Lucien Goldman, who provides the fundamental definition of "homology," as well as the theories of Luciano Anceschi and Marshall McLuhan in order to reassess conventional modes of dividing art history into such periods as modern, contemporary, and postmodern. By correlating moments like the invention of the printing press and the internal combustion engine with canonical periods in the evolution of art, Barilli unearths conceptual links across domains and disciplines.
An insightful reflection on the historic perspectives of cultural production, The Science of Culture and the Phenomenology of Styles sheds new light on the relationship between visual culture, art, and language.
Translations
With the title:
Science of Culture and the Phenomenology of Styles
With the title:
Ciencia de la cultura y fenomenologia de los estilos
Editori associati (tassonomia)